2020 Ultimate SEMRush Review: All In One Marketing Tool?
So you have your brand and your ideas. And that's great! But, since you are looking for a SEMrush review, you are thinking about how you can reach new audiences.
And that's even better!
To make things simpler, regarding SEMrush, there is only one word you need to keep in mind throughout this whole article: competition.
How Can Competition Help Your Brand?
It is the Internet we are talking about and, most likely, your idea is not that original and somebody else has done it before. In fact, you do not have to squeeze all your creative juice trying to figure out what niche you should target and what one industry is missing today.
You can thrive in a popular niche as well. "How?" you ask? By taking a look at your top competitors and find out what is working for them. That simple!
On the other hand, you will be able to see what is not working for your competitors so you can avoid common pitfalls. Also simple, right?
But we know what you're thinking. Who has the time and the energy to monitor every single move of your top 3 or top 5 competitors, and determine if they are performing well?
Well, this is where SEMRush comes in to save the day.
What Is SEMRush?
Simply put, SEMrush is a prominent marketing suite that includes a keyword research and website audit tool that allows you to take a peek at your competitors and determine what works best for them. By doing so, you can easily implement their strengths into your marketing strategy and help your business grow faster.
Long story short, more users use SEMrush to find profitable keywords than all other keyword research tools, including Moz and Ahrefs! Established businesses take full advantage of the lead generation tool to get a steady stream of conversions, and at the same time, it runs an SEO audit of your blog and looks for backlinking opportunities.
But it doesn't stop there, SEMrush has so much more to offer. This review will help you understand what the software's strengths and weaknesses are and how you can benefit from using it.
So let's get right to it?
Keyword Research: How To Quickly Rank Profitable Keywords
Benefits of Using SEMrush — What Does SEMRush Do?
We are going to be honest, here. There are many benefits that come with using SEMrush on a daily basis. In fact, there are so many that they cannot actually be listed in an article and, as soon as you get the handle on it, you will find many different ways you can take your business to the next level.
However, today, we have for you the top 10 main benefits that come with SEMrush. Here you go:
1. Competitive Advantage
As told above, the very first benefit is that one of the main SEMrush tools is that it shows you all the main keywords that boost your competitors' search engine ranking.
Another great tool is that companies, no matter how "established" they might be, get a heads-up everytime a new competitor shows up and how they perform, grow, and rank.
Through this information, brands can adjust their strategies and improve their SEO plans.
For a SEMRush Free Trial, enter a domain, keyword, or URL in the box below:

2. Advertising Made Easier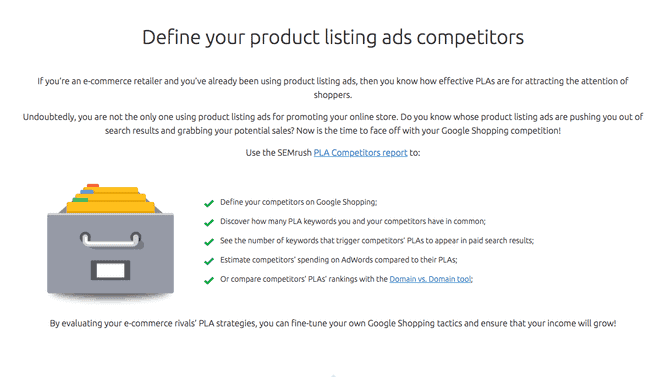 SEMrush provides insight into your competition's advertising approaches to ensure you and your clients always remain one step ahead.
To be completely honest, it's not just a glimpse but a whole window to the world of your rivals' advertising strategy. You can even find out their budgets, ROI, and much more.
3. Social Media Management and Expansion
Of course, social media is still important and it's pretty safe to say your customers are using them daily. When we're talking about social media though, we don't imply reaching every person on each platform at once. Targeting is key.
With SEMrush you can find social media trends and identify overall campaign targets from competing companies that reach your audience. Identify how they create engagement in areas better than you and quickly increase your own conversions.
4. Next Level Content Marketing
Quality content marketing is simply priceless for a brand. I say this for two main reasons:
First, people love valuable information
Second, content is a huge Google ranking factor
When SEMrush scans their impressive and growing database of Google and other search user search data, you will have the ability to conduct your SEO keyword research with the accuracy you need. This way you can hone in on the profitable search terms in your niche, target them and promote your products or services effectively.
So you tell me, is SEMRush worth it?
Pretty cool, right?
Check out SEMRush Academy to learn more.
5. Long Tail Keywords As a Great SEO Strategy
Do you know what else is important? Long-tail keywords.
Apart from the basic, two or three-word-long keywords, SEMrush suggests related ones you can use to create new opportunities. Many of those suggested keywords are long-tail variations.
Are Long-Tail Keywords Important?
The truth is that not so many are familiar with the importance of longer keywords. However, the main reasons why you should start targeting them is they are more specific and searched for when the user is closer to understand how to solve their solution, which usually means make their purchase.
Also, there is another huge advantage regarding long-tail keywords: They have much less competition which means they are easier to rank and much cheaper to target.
6. Monetize Your Website Like a Pro
One of the oldest ways bloggers and website owners earn money is on-site advertising through banners, sponsored posts and more. If this is how you operate and earn money online, this section is definitely for you.
With this tool, you will be able to identify the sites that look to target potential customers on this specific keyword and offer them direct monetization opportunities.
Just go to the "Organic Competitors" table, select one of your competitors, and click on the "Common Keywords" metric.
7. Remove Toxic Backlinks
Backlinks are great for SEO purposes and the more high-quality they are (from authority-websites etc.) the better. What's not great, however, is having "toxic" backlinks linking back to your website which can even lead to a Google penalty.
SEMrush comes with a built-in backlink audit tool that gives you a full report of all the backlinks pointing towards you.
Simply, after you add a project within SEMrush, you click on the "Backlink Audit" tab. Boom!
8. No Need For Tests
It's common for new marketers online in the early stages of learning (like everyone has been in) to sign up for Google AdWords for the first time and try to guess what keywords are best to target, what content to produce, etc.
This, usually, leads to spending some hundreds of dollars without actual ROI and more time figuring out what they've been doing wrong.
SEMrush shows what keywords your competitors are using, their target URLs including their the ad copy. Having this data at your fingertips immediately levels that playing field.
Also, by doing so, you are able to identify your top Pay Per Click (PPC) competitors.
9. Build Outstanding Reports in Just a Few Clicks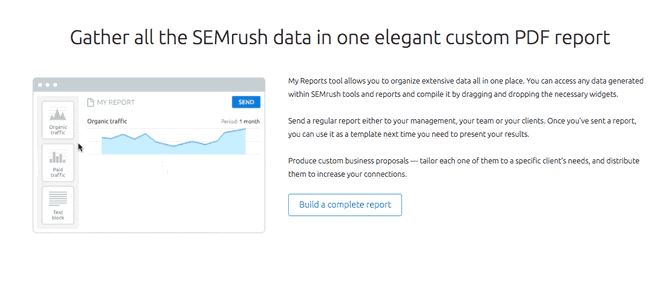 Reports might be the only way to have all your data in one place, figure out how your company is performing or even to just explain to your customers whether their online strategy is going well or not.
However, most of the times, crafting a report about traffic increase, keywords, PPC traffic, competition, etc., can be truly exhausting. Not with SEMrush.
The SEMrush Reports tool gives you the opportunity to build a great, professional report by just dragging and dropping widgets into a pre-built reporting template.
Just find the Reports Tool in your dashboard, enter your domain name, select your device, and just start building your next, amazing report. Of course, you have the ability to customize it, make it look exactly like you want it to, add data, charts, numbers, headings, etc.
10. Attract New SEO Clients
Of course, you want new clients for your brand! Who doesn't? Lucky for you, SEMrush has got you covered once again.
Go to the "Lead Generation Tool." By doing so, you are offering your visitors a free SEO audit in return for their email addresses. Now that you have their e-mails, feel free to follow-up and promote your business' services.
Great, right?
The procedure is quite simple. Click on the "Lead Generation Tool," type in your domain name, copy paste the widget code into your website, and start generating leads!
A feature pretty convenient if you do not know how to code.
What Problems Can SEMrush Solve? (TL;DR)
Of course, SEMrush comes with great benefits and using it will only help you grow. But if we have to sum it all in a simple paragraph, then we could just say this:
SEMrush helps users know the health of their website by scanning all the pages and assigning a total score. At the same time, you get to know your competition much better by identifying their online promotion strategy, how much they spend, and how they rank.
SEMrush Weaknesses
However, since this is a full SEMrush review, we have to mention and the software's weaknesses – of course, there are a few. Nevertheless, we are not suggesting that you should not use it.
The Best Research Tool in 2019: Ahrefs vs Moz vs SEMrush
But we are obliged to let you know what to expect. Let's jump right into it:
1. It's Easy To Get Lost in The Keyword Tornado
SEMrush is a really powerful tool, and it needs to be as accurate and detailed as possible. So, every time you type in a keyword, more than 50 pages of similar keywords may come up.
And sometimes it just feels too much.
Of course, you can organize them by volume, keyword density, CTR, usage, and more, but you can't save this organized list that you have created
2. Not Really a User-Friendly Interface
When you first log in, the interface will definitely scare you. There are many different options, tabs, even terms that will catch your attention and you will most likely not even know what to do with all these features.
A professional SEO marketer can use SEMrush like a pro but if you want to grow your business on your own, you will need some time to figure the software out. Just have patience. It gets better.
3. A Tiny Problem With Reports
If your clients are familiar with SEMrush and its features, they are going to know that you are using it to create your reports. This is not necessarily bad, but sometimes, a white label report might look more professional.
The only way to create a white label report without the SEMrush logo on them is to build them outside of the SEMrush environment or go for an advanced, paid version.
How Much Does SEMRush Cost?
Everything comes at a price and, of course, a great tool like this cannot be offered for free. By the way, yes, there is a free plan which does not even require an account but you only get some basic tools.
So, SEMrush comes at three different pricing plans ranging from $99.95 to $399.95 per month. Here they are:
1. SEMrush Pro
If you are a beginner, this plan is definitely for you. The total SEMRush cost is just $99.95 per month and you have all the tools that a small business needs, such as:
Keyword research
Site audits
Advertising research
Backlink profile analysis
Traffic estimation for any site
Check difficulty of keywords
Domain-to-domain comparison and more
As you can see, all the benefits we talked about above are available in the Pro plan, so you do not really have to break the bank right from the start. And yes, you can upgrade anytime you want.
2. SEMrush Guru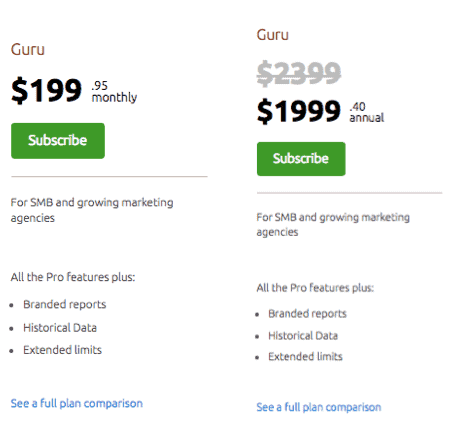 With $199.95 a month, you get a SEMrush Guru account, which allows you to do everything you can do with SEMrush Pro but also gives you access to historical data of 11 databases dating back to January 2012.
Of course, you can build more daily reports, explore more results, and have more keywords to track.
3. SEMrush Business
SEMrush Business has it all. You get a ridiculously high number of keywords to track, daily reports to build and everything but you also get multi-users management and access to more important, bigger data.
This is a great plan for agencies, SEO professionals, and bigger businesses who have multiple accounts to work on.
However, we would recommend visiting the official SEMrush pricing page for more and contact the team if you need any clarification.
Is SEMRush Worth It?
Now, after this extensive SEMrush review, you know that there is no doubt SEMrush is an amazing, powerful tool that is constantly updating and is just getting better.
Their beta tools, no matter how good they are performing, for now, show that the company keeps growing and the team is constantly building out fresh features.
Click here to take a look at your SEO score and determine whether you need a powerful tool like this.