Local SEO: Your Comprehensive Business Marketing And Ranking Guide
Can you believe it's 2020!  Your website is a 24/7 communication tool that speaks directly to your current and future customers when optimized correctly.  If your website is NOT currently generating the lion share of your leads, prospects, clients, and sales, then this guide is for you.
Before jumping into HOW to appear higher on Google, commonly referred to as ranking on Google, it's important to identify our goals, which ultimately are generating clients and sales through targeted website traffic.
To achieve success online, it starts with having an SEO and marketing plan.  But don't let that intimidate you! It's exciting, which is why we are showing exactly how we do ours.
Let me first define a few terms in how I use them so we are on the same page as I reference them moving forward.
What is local SEO?
Local SEO is a powerful way to market your business online using the internet. It helps companies promote their products and services to local customers at the exact time they're looking for them.
What is local SEO marketing?
Local SEO marketing or local search optimization is the process of optimizing your owned properties online to generate customer traffic from location-based searching.
What are local SEO citations?
A local SEO citation is an online reference to your business's name, address and phone number (NAP). Like links to your website, Google uses them when evaluating the online authority of your business. Unlike links though, citations organically build your brand online and do not require linking back to your business's website for you your you to get the website property online.
What is a local listing in SEO?
A local listing in SEO often referred to as a local business listing is an online entry that contains your business Name, Address and Phone Number (NAP) along with other relevant business details. There are many directories and websites like Yelp, Foursquare and Yellow Pages where local businesses can and should create free local business listings.
What is a local search engine?
A local search engine is the use of specialized Internet search engines that allow users to submit geo-targeted or geographically constrained searches against a structured database of local business listings. A search that includes a location modifier, such as "Chicago, IL" or "14th Halsted Street", is a specific local search.
What is meant by organic in SEO?
Organic search engine optimization (organic SEO) refers to the methods used to obtain a high position (or ranking) on search engine results pages (SERPs) in unpaid, algorithm-driven results on a given search engine.
Until recently, the ultimate ranking goal was to reach the top, or first ranking position on Google, for your most valuable or targeted search terms.  This goal still exists, no doubt, but has evolved and expanded significantly, allowing for more avenues of targeted traffic on the first page of Google.
Let's first analyze and identify each potential ranking position on the first page of Google.  Keep in mind, page 1 changes for almost every keyword and its competition.  The examples provided are what we have identified to date as highly achievable when optimizing your website structure properly.
Google Page 1 Ranking Examples
The above image shows three ranking opportunities that are above the fold on Page 1 of Google, for this search term.  We have the standard top position, (ranking #1), along with the right panel, that is known as the "knowledge graph", and finally,  there are three YouTube videos in the middle. The knowledge graph pulls from my Google my Business page which is a local ranking signal pulled from the websites geotarget,
This is where it's important to not overthink the process of optimizing your website.
Pay attention when you personally are searching for a product or service that you are not familiar with, and try to notice what makes you click and what makes you not click.
Now, look at the image above. If this were a term you were searching, where would you click first?  There is no right or wrong answer. The correct answer can only come from analyzing the consistent behavior of your target market, searching for your information.
When you search for your target business keywords, do YouTube videos appear on page 1?  And if so, are they your videos?  If not, then you have work to do.  Google is telling you they are ranking YouTube videos on the first page on Google, because it is likely that your audience prefers videos, and your competition is getting those customers because they have videos and you do not.
These are patterns to pay attention to and then follow them.
When you Google your target keywords near your business, does your knowledge graph appear? Or does a different company?  If it's a different company, then you know immediately you need to either set up or continue optimizing your Google My Business account.
We'll dive deeper into Google My Business and it's importance to your business a bit further into this post.
To ensure your website layout is correct and easy for your users to navigate, try practicing this exercise mentioned above. Try to identify patterns that you follow,  ask people in your circle the same questions, and then replicate the same on your website.  If you find your website traffic improving, you already are on the right path.  If you don't see a change, then keep tweaking.
Questions to ask yourself:
Do I have a Google My Business Account?
Have I created videos selling my product or explaining my business?
Do I have a business YouTube Channel, Facebook Page, Twitter Page, and all other relevant social media accounts?
Google Featured Snippet Rankings
Let's examine the featured snippet image above.  I'm sure we've all seen this type of example show up in our searching history, and I'm willing to bet the information provided was more helpful than not and are typically placed in higher and more competitive search terms.  Full disclosure, Google does not give exact details on how anything ranks, and it changes daily, so always keep that in mind, especially if someone tells you they know exactly how Google's algorithms work.
Let's think about why Google places featured snippets, in what is now referred to as position #0, in the marketing world.
Google's sole purpose is to provide the most relevant and accurate information to its users.  If it's not obvious by now, many people in today's day have very short attention spans.   Remembering this bit of information in all aspects of your website is vital.
This example is for the search term "how to start a blog", which is a highly sought out search term in 2018.  Because this is such high volume search term, Google created their featured snippet algorithm to help draw attention to the results pages, by including a summary of the answer, extracted from a webpage, with a link to the page, the page title, and URL.
The obvious next question is:
How to get a featured snippet on google?
The technical answer from Google is as follows:
Google programmatically determines that a page contains a likely answer to the user's question, and displays the result as a featured snippet.
Translation – provide the absolute best value based content for your target client.  More on this later in the post.
Before moving to the next example, be sure to notice the featured snippet position also has the top website ranking,  putting this site at positions #0 and #1 for a very competitive and profitable search term.  Quite an accomplishment!
Why would Google reward this website with arguably the best two positions?  The only logical answer is because this website in Googles eyes provides the best answers to their user's questions.
People Also Ask?
In our next Page 1 ranking example there are four paid ads at the top of the page, one top organic listing, and a section called "People also ask".
As a general rule, paid marketing such as Adwords and Facebook ads are not at the top of my list because I prefer organic SEO, but I do recommend paid techniques, specifically on new sites when the SEO is building.  I say that because the essence of my SEO techniques revolve around low budgets and maximum ROI, or return on investment.
However, studies are beginning to prove especially in specialty niches that Google shows extra preference to websites that run targeted ads, and also have quality, value-based content that supports the ads for the readers.
For a better understanding of how to use Google Ads, please check out:
How to Set up a Google AdWords Campaign
Below the ads, you will see the section called "People also ask".  In my testing and experience, the "people also ask" section has become one of the best positions to "rank" for in Google, specifically if you are selling a product or service.
Why is the "people also ask" section so valuable?
This section gives you close to real-time question and answer sessions with your target market, and it lets you know EXACTLY what their most pressing questions are.
How do I show up or rank in the "people also ask" section?
This starts with understanding your target market through keyword research to get a clear understanding of what questions your potential customers need to have answered.
For a more in-depth understanding of keyword research, please check out our keyword research guide:
Beginner SEO Guide: How to Do Keyword Research
Put yourself in the shoes of your customer, and pretend you don't know anything about what you sell, but you want to find your product online.
What are the first words you type into Google?  When you type them in, what comes up?  Is it a product or company similar to yours?  If so, then analyze the top websites that are on page 1 of that search term, and compare the websites to yours.
Discover where they are better than you are.  If they are significantly better in many places, then you have some work to do.  But understand, SEO is not a one and done process.  You need to consistently optimize and add content to your website that directly communicates to your audience, and it's imperative that you do it better than your competition.
It's time to become THE expert in your niche.
List as many search terms for your niche possible, Google them all and identify how many have "people also ask" sections on the first page.
When you see this section, be sure to note every question you can find and answer all of these on your website in a FAQs section.
Do this often!
If you look at our site, we like to define key terms with our definitions or glossary page, to ensure everyone has the same understanding of the important terms.
Then we have our FAQs page that gives a quick summary of the most pressing questions around our most important topics.
All of our FAQs link to a more in-depth explanation via a blog post on our website.
This allows our readers to understand what they are reading, get a quick answer if needed, (remember short attention spans) but also gives detailed answers for those who want more context.
This also creates a nice and easy to crawl website structure for the search engines.  Which is what they LOVE!
Here is a how-to guide to follow when creating your FAQ's on your website.
How to Write A FAQ Page: What You Need To Know
What is Google 3 Pack?
The final 2 examples of page 1 rankings shown above are in the local 3 pack, also referred to as the "snack pack" or "map pack".  If you're a local business that depends on business in your local community, ranking in the local 3 pack is all but a must.
How do I get my site in the local 3 pack?
According to Moz's 2017 local search ranking factors, the top local pack-ranking factor is proximity to the searcher.
Here are the top ways to optimize your local business so that it will show up in the local 3 pack:
Localize Titles and Meta Descriptions
Claim and Optimize Google My Business
Have High-Quality Back Links
Show Online Directories and Citations (More relevant to your niche the better)
Get More Reviews!
Schema Schema Schema – Local Structured Data Markup
Localize Titles and Meta Descriptions
Let's say you're a personal injury lawyer in Homewood Illinois.  The way to tell Google that you're not only a personal injury lawyer but one in Homewood Illinois, so clients in your area can find you, is by actually writing this information on your website in detail.  That starts with your titles and meta descriptions.
Below is an example of how to write your title and meta descriptions if you are a personal injury lawyer in Homewood Illinois.  Please note, this is an example and not something to copy word for word.  For a more comprehensive guide on how to write your titles, meta descriptions, and to optimize your entire site, be sure to check out our complete On Page SEO Guide.
This is possible with a WordPress SEO Plugin that we use to set our Title and Meta descriptions, called SEO Press.  There are many WordPress SEO Plugins to choose from, the most popular two being-Yoast and All in One SEO Plugins.  Both are quality plugins and have great reviews, however, in our experience, they are beginning to have too many features in one plugin that can lead to conflicts.
Side note: One of the best features of WordPress is the ability to uniquely customize your website with plugins.  Plugins are essential when using WordPress, but a good overall practice is to go back and ensure all your active plugins are absolutely needed.  If you find you are not using a plugin or can go without one, it's best to deactivate and delete them.
Make sure to have a dedicated and detailed contact page
Your website is the central point, or hub of all things online for your business, which means it needs to be the driving source of information, for everything else to follow.  With that said, it's important to have all relevant and current information about your business, team members, products, and any other pertinent information that would help to build customer trust, listed and easy to find on your website.
This starts with an easy to read contact page.  Make it simple for customers and potential customers to contact you.  Remember, if they are trying to contact you it means they are actually interested in what you have to offer, so be excited and do your best to make this process as seamless as possible for them. 
Important Tip For Contact Pages
Be sure to clearly detail your NAP:
Here is our complete guide to setting up your contact page:
How to create a contact us page that promotes conversation
It's also recommended to have an easy to use map with directions to your location or locations if you are a retail business and/or take walk-up business.
Did you know that 68% of all local searchers use their mobile phones to call the business for directions?
What does that tell you?
Make your website as mobile friendly as possible.  If you are a retail store, make the directions ridiculously easy to find in search, and make the phone number clickable.
How do you make your website mobile friendly?
A major factor is website speed, which starts with your website hosting.  For a much deeper look into website hosting, make sure to set time aside to review our hosting guide:
Guide To Choosing The Best WordPress Hosting 
Claim and Optimize Google My Business
Google My Business is one of the most overlooked, free resources available to all businesses, but especially for local businesses.  Say the name slowly, Google My Business.
If you don't have this claimed and verified with Google, it might make it a bit difficult for Google to send people to your business right?
By having your Google My Business profile filled out completely, you will now be able to receive reviews on Google, show up on Google Maps, list easy to access directions and your phone number, make unique posts through Google My Business, (highly recommended) and take direct questions and answers.
Below you will find a coffee shop near me that has a Google My Business profile filled out nicely.  It has their website, phone number, directions, lets customers know when it's their busiest times of the day when they open and close.
This helps your customer make their buying decisions, and ultimately become your customer.  Make it as easy as possible for them, you have the most to gain.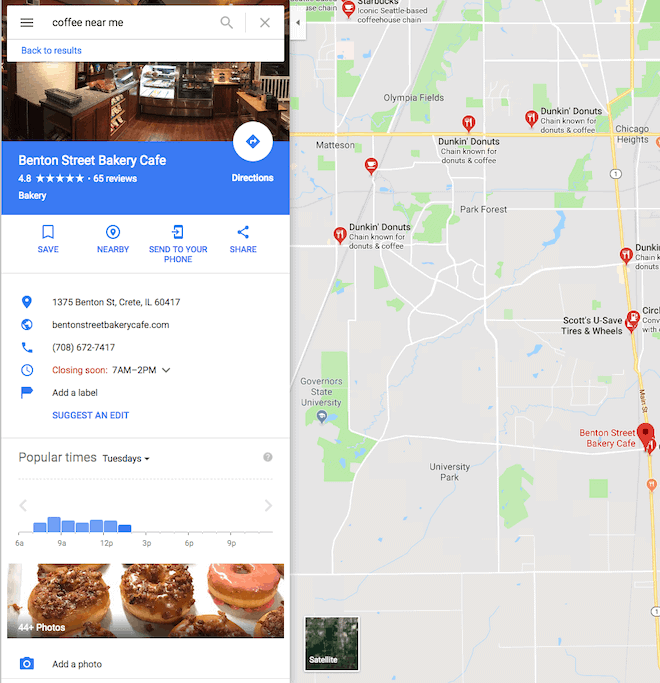 Here is our complete guide to setting up your Google My Business profile:
Your Ultimate Google My Business Guide
High-Quality Backlinks
Here is my analogy to help explain the importance of backlinks, and identifying the good from the bad.
Let's say a person is trying to move a refrigerator by themselves.  Depending on their size, energy, motivation, the distance needed to move, etc. will determine how easy or hard it will be for this person to move the refrigerator.
For the analogy, let's call the refrigerator a website.  Moving, or ranking the website with one person, or backlink is possible, but much harder and most likely not going to be successful.
In many cases, the person will call a friend or neighbor. For this example, let's say first they call their neighbor. Unfortunately, this person has never seen the inside of a gym and isn't much help. They now have two people trying to move the refrigerator, but still not able to accomplish their goal.  Or their website now has two backlinks, but the new backlink is a low-quality link. (no offense to the neighbor)
Now they get serious, they both have bodybuilding friends, and want to get this over with.  Both of them get on the phone and soon some friends show up.  The 4 of them lift the refrigerator in seconds, and the goal is accomplished.
On our website, we now have four backlinks with two very high-quality links that do WAY more than a ton of low-quality links can ever do.
Think of websites like a bunch of teenagers in a popularity contest.  In 2019, it's not about how many friends you have, it's about the quality of your friends.  Google wants to see your website linked to the best websites in your industry.  If those websites and brands are linking to you, then you are instantly validated in their eyes.
How do I get High-Quality Backlinks?
Follow these 4 steps:
Build the right content
Research Influencers
Rope in Social Media
Keep tabs on Your Backlinks
For more information, please check out our complete link building guide:
What is Link Building Strategies and Examples
Online Directories and Local Citations (More relevant to your niche the better)
What is a local citation?
A local citation is when a local business has its name, address, and phone number mentioned or cited online. Citations can occur on local business directories, on social platforms, and on apps and websites. Citations help searchers and potential customers discover local businesses which can help impact local search engine rankings.
What makes up a local citation?
In the Local SEO world, you will hear the acronym NAP tossed around.  NAP stands for Name, Address, and Phone Number.  These are three of the most important points of information that need to be correct, and consistent on all of your business citations throughout the internet.
Let's run through a scenario to explain how there can be inconsistencies without knowing it.
Let's say your business is also in Homewood Illinois and is a home improvement or home remodeling company.  You have an office space in the center of town, so it's easy for your customers to find you.  However, you've only been in this office space for 1 year, since you've just recently been fortunate to expand as a business.
Before your home remodeling company was in this office space, it was a tax attorney and CPA firm that occupied that space for the previous 10 years.
When you moved in and started building your new business citations for your new address, things appeared great.  But you don't know what you don't know.
Google sees everything, and if there are citations to that location that exist from a previous business, such as the Tax Attorney in Homewood Illinois, that was in the office space before you moved in, then it will confuse the search engines and hinder your ability to rank, especially in the 3 pack.
It conflicts with the search engines because the name and phone number are different, but the addresses are the same.
A simple citation audit from a trusted SEO Consultant, or SEO Agency, can run a full report to your address so you can identify if your address has any conflicts.  The report shouldn't cost more than $100 or more conveniently not charged with citation services, but you can do this work manually yourself.  It's not hard work, it's simply time-consuming.  If you have the time, it's absolutely a good exercise to have done in-house, at least at some capacity.
However, this service is typically packaged at affordable prices, because of its importance, so owners and employees can focus on more important: income-producing activities.
Because of this, it is vital to get a full citation audit, and then start building relevant citations that support your industry.  Other important information to have on your citations are as follows:
Business categories
Hours of operation
Driving directions
Business description
Email addresses
Alternate phone numbers
Fax numbers
Payment forms accepted
Taglines
Images
Videos
Geo-coordinates
Reviews
Owner responses
Links to social and other forms of media
Attributes
Get More Reviews!
Reviews are everything in today's digital world.  I challenge you to find someone who hasn't checked reviews before making a purchase.
How do you get more reviews?
Ask for them.  If you have a satisfied client, don't be shy to ask them to leave a review.  Remember, it's our job to make our clients leave satisfied, so if this is not happening, that needs to immediately be addressed.  But assuming they are happy, ask them to share a positive review.  Come up with an incentive program if a customer leaves a positive review, get creative.
Also, engage with your clients after they leave reviews.  Thank them.  Be authentic and personal, try to avoid a canned response you leave for everyone.
Where should my customers post their reviews?
This is a common question I get, and it's a great one!  My normal response is, literally any place they want to leave it.  I believe all reviews are created equally.  But here is a list of great review spots:
Google My Business
Facebook
Yelp
Amazon Customer Reviews
Angie's List
HomeAdvisors
Yahoo Local Listings
Bing
Glassdoor
Twitter
Your Website
Avvo
Another top question we receive is:
How can I avoid negative reviews?
First and foremost, the obvious answer is to do great work and always live up to your commitments.  But even that doesn't necessarily keep you completely safe anymore.  People and competitors can hit you with negative reviews that are completely fake, that not only can hurt your SEO rankings, but also hurt your overall brand.
If, and when, this happens, respond publicly by defending your company and brand, and also report the comment to the review source.  But don't stop there, review sites and online platforms work vigorously to maintain the integrity of their platforms, no different than you do on your website and brand.  If there is a review about your company that is flat our untrue, present your case and do your best to prove why, and how, it is a fake review.  More times than not, you will be able to get the review removed. Not always, but it definitely is worth your time to try.
For information about taking your online reputation to the next level, check out our very awesome online reputation management services provided by your trusted SEO Consultants at Marketing by Kevin.
Schema Schema Schema – Local Structured Data Markup
"Schema markup" or "schema.org markup" is what Google refers to as Structured Data Markup.  The purpose of Structured Data Markup is to communicate to Google how you visually believe your site might appear in the search engines.
Structured Data Markup includes the title, snippet and URL, as well as optional elements, such as sitelinks, breadcrumbs, search within a site, and event and product rich snippets.
To set up your Structured Data Markup correctly, it's important to set up and verify your website with Google Search Console, also known as the Google Webmaster Tool.
For a complete overview of Google Webmaster Tools, please check out the guide below:
Google Webmaster Tools 101: An Overview
Structured Data Markup Helper
The Structured Data Markup Helper assists you in marking up elements on your web page, so Google is able to understand the data on the page. Once Google is able to clearly understands your page data, it's able to present your information in a new, more attractive way in Google Search.
Furthermore, if you send HTML-formatted email to your clients, Markup Helper explains how to change your email templates so Gmail can present the data to the user in new, useful ways.
For a full overview of Schema, Structured Data, and how to use it properly, please check out our Schema Markup for SEO Guide:
Everything You Need to Know About Schema Markup for SEO
The plugin we use for schema is also the same plugin from above, SEO Press.  SEO Press PRO works incredibly well and is very affordable.  Definitely check it out!
What is SEO and How Does It Work? Unlocking The Internet in 2019
Please stay tuned to Marketing by Kevin as we continue to update this and other relevant posts on how to rank your local business online so you can begin preparing to dominate in 2020.