WPEngine Review: The Pros and Cons of WordPress Hosting in 2020
WordPress is one of today's most popular Customer Management System, or CMS, on the web. Yet, did you know they offer a robust hosting service as well?
WP Engine is a hosting solution designed for WordPress-based websites. Founded on March 1, 2010, its web hosting services are combined with software and web development solutions, and its popularity is increasingly on the rise.
But is it worth all of the fuss?
Or is this solution just riding on the coattails of the WordPress brand, and its success?
This WP Engine review explores both the pros and the cons of this platform.
To jump right to the available plans and pricing of WP Engine, please check out this link:
WPEngine Plans and Pricing
If you haven't already, please check out our complete guide to managed hosting, how it significantly benefits your SEO efforts when leveraged properly, and all around aids in amplifying your business and brand.
The Official Guide: How to Choose the Best WordPress Hosting
WordPress Statistics You Should Know
Out of the more than 1,800,000,000 websites online today, 28 percent of them are built using WordPress. That's over 500 million websites!
What's more, 27 percent of the top 10,000 highest traffic websites use WordPress.
So what is it about this CMS that makes it so popular?
The answer lies in its flexibility and customization. Instead of creating sites to fit the WordPress CMS, WordPress adapts to your design. With over 45,000 plugins available, you don't have to be a codeguru to design a site that does what you need.
While you can really go to town with customizing your design using PHP, you can also adapt your design using plugins or even create your own from scratch.
Simply put, you don't have to be a web developer to use WordPress. But if you are, there is no glass ceiling to what you're capable of designing.
The History Behind WordPress
WordPress was originally introduced in 2003 as a blogging platform to replace b2/cafelog after it shut down. Its original design was an improvement upon the old b2/cafelog interface, which was welcomed with open arms by other developers and users.
A year later, it introduced the plugin architecture that gave its functionality more flexibility. Soon, users were sharing their own plugins and coding with others within the WordPress community.
It began to grow from within through a combined effort between WordPress's owners and its users.
As time passed, WordPress fed its expansion, evolving from simple blogs to cohesive websites with new features, tools, and themes. The platform kept growing with the creativity of its staff and community and continues to do so to this day.
Now WordPress averages about 17 blogs a second across the totality of WordPress-based sites on the web.
But this CMS isn't just for blogging anymore. Through the years it has expanded to accommodate both simple and complex website designs, including e-commerce.
Currently, WordPress is a leading force with various groups and programs actively growing the potential of the WordPress CMS. It's this power of community and its contributors that make it a relevant and evolving force on the web.
WP Engine's Relationship with WordPress
After WordPress came WP Engine, the hosting service we're reviewing today. Just like its predecessor, WP Engine is strong, flexible, and reliable. Yet it's designed specifically for the CMS that paved the way for its creation.
Before you sign onboard with WP Engine, you want to make sure your website is or will be designed on a WordPress CMS. While robust and highly adaptable, this interface is not for beginners.
WordPress does offer a more simplistic interface for new users, but it's recommended you trust your website design to a professional web developer if you don't have the expertise yourself.
Even with simple designs, it pays to know your share of HTML, CMS, PHP, and other web design languages and skills.
Once your site is built, it will need a home. This is where WP Engine comes into play. This hosting service comes with several advantages and very few downsides.
A Comprehensive WP Engine Review
That being said, let's dive into WP Engine's capabilities.
The Pros of WP Engine
The benefits of WP Engine truly outweigh the cons. This risk-free service is capable of handling even the most complex websites. While one glance at their monthly fees may make you wonder why you should consider them over cheaper alternatives, you start to understand when you experience their service firsthand.
WP Engine Has an Expert Support Team That Makes Life Easier
Having to contact customer support for your website, rarely makes for a good day. Often, whatever issue has you reaching out to support, has already piled stress onto your shoulders.
Yet, bad customer service is so commonplace, we dread having to ask for help.
Thankfully, WP Engine proves to be a breath of fresh air. Their customer support team is knowledgeable, highly experienced, friendly, and efficient.
What's more, their team is available around the clock–literally. Day or night, weekday or holiday, someone is always available to assist with your needs.
But what about the things you would like to handle yourself?
WP Engine has an online resource library where you can dig into free materials to help you better understand WP Engine's portal and functionality. From website migration and setup to optimization and troubleshooting, you can become a WP Engine expert on your own free time.
If you want to, of course. For those who don't, a simple "SOS" sent through their online chat will have you speaking to an expert in no time.
They Step Up to the Plate on Your Site's Security
WP Engine goes above and beyond when it comes to website security. Whereas many hosting services, like GoDaddy, expect you to buy extra add-ons for standard security measures, WP Engine includes them for free.
Even your basic package includes a free SSL purchase and installation. If you're unfamiliar with the importance of an SSL, these Secure Socket Layers have become essential.
In July 2018, Google made SSL's mandatory for websites. Any site without one automatically pops up with a warning in your browser that the site you are visiting is not secure.
For your protection and the protection of WP Engine's servers, your hosting package comes with this security feature. It also comes with an on-demand service to fix any hacking problems at no extra cost.
This means peace of mind for you–the user. Hacking is a growing threat to the online community. Yet with WP Engine's well-qualified team protecting your website, you don't have to lose sleep over it.
Plus, they have free data backup and restore. In fact, these backups are run every single night. If an update goes awry or someone hacks your website, you'll always have a recent backup accessible from your User Portal.
These backups include your core files, themes, database, and plugins.
Automatic WordPress Updates are Included
WordPress updates are essential. These latest tweaks and changes are aimed to improve your CMS's functionality, features, and security. If you don't keep up with them, you risk your website's safety.
WP Engine, yet again, steps up to the plate and handles this step for you. All WordPress updates are automatic.
If you haven't noticed, top-notch security is a trend that carries through this hosting option's services.
Preventing hacking or downtime is an important quality in a hosting provider, but not all services live up to the expectation. With WP Engine, you truly get what you pay for and it shows in faster load times and high reliability.
Faster Loading Times are No Coincidence with WP Engine
One of the first things new users pick up on when they switch to WP Engine is how fast their website loads.
Between their Evercache technology and the helpful guidance of WP Engine's staff, they actively assist with improving your site's speed. Even if you get thousands upon thousands of hits per day on your website, you don't have to worry about it slowing down.
Evercache is used by massive companies, including Huffington Post, Mashable, TechCrunch, and even Dr. Phil, without so much as a hiccup.
Each Package Comes with Independent Staging Areas for Testing
Have you ever had a new plugin, update, or design change you wanted to try on an existing site, but you dreaded the idea of messing it up? Every WP Engine comes with 3 environments for every website you host.
That's 3 individual staging playgrounds where you can experiment and explore. There are no worries about having to change your existing site. You won't have to lean on an existing backup to fix your live site after a change goes awry.
Web developers especially understand the importance of this feature. From testing new plugins to trying new themes, it's a safe environment to test drive on.
No Stressful Commitments or Contracts
You probably know the dread of undergoing the sales representative gauntlet in order to get the services you require. You know what you want, but before you can get it you have to deal with upsells, contracts, and bundles full of things you won't actually use.
This isn't the case with WP Engine. Its commitment-free design allows you to pay month-to-month. They even give you 60-days risk-free.
Here is a full breakdown of exactly what is different between each WPEngine Managed Hosting Plan.
The Cons of WP Engine
When it comes to downsides, there aren't many with WP Engine. We've only discovered a handful of limitations or cons that may detract users.
WP Engine is More Expensive Than Most Hosting Services
With high quality comes higher pricing. WP Engine hosting packages start at $35/month. It's enough to cover one small business website or blog and three environments.
From there the pricing jumps up to $115/month for 5 sites, each with 3 environments. Your bandwidth and monthly visitors also increase.
For agencies or multi-site businesses, the scale package offers 15 websites with 3 environments each, along with double the bandwidth and 4 times the monthly traffic.
Anything beyond that requires a custom package put together and priced by one of WP Engine's staff.
However, keep in mind you're paying for more than just basic hosting. All the benefits listed above plus free page performance metrics and tools are bundled with this service.
WP Engine Isn't for Non-WordPress Sites
Don't have a WordPress site? Then WP Engine is not the right fit for you.
Unfortunately, this hosting service is reserved for websites built on their CMS. It's part of what makes it so effective. Instead of trying to adapt to all needs, WP Engine specializes in supporting WordPress platforms.
Certain Plugins and Themes My Not Be Applicable
Along with this comes other limitations. While WordPress does have a massive selection of plugins and themes you can use, it isn't limitless.
There will be some plugins or designs that may not be compatible with WP Engine. The best thing to do is to consult with their customer support prior to buying into their hosting package and beginning your website migration.
Make sure your website is compatible with its services. Their help chat is very quick to respond and they know their product, so you won't have to spend half your day looking for answers.
Additional Charges for Excess Storage or Visitors
The biggest downside to WP Engine is its limitations on site traffic and storage space.
Depending on your package, you may be limited to anywhere between 25,000 to 400,000 visitors per month. Your bandwidth also ranges between 50 gigabytes and 400 gigabytes.
Upcharges are tacked onto your monthly bill if you exceed your limits. If you're a large company, this may be a concern. Consult with WP Engine's specialists about what to expect based on your current site's performance.
They may be able to provide you with a custom quote to fit your needs.
In Conclusion
If I can leave you with only one key takeaway from this post, it would unquestionably be this next graphic, so please pay close attention to it, especially if SEO is important to you and your business.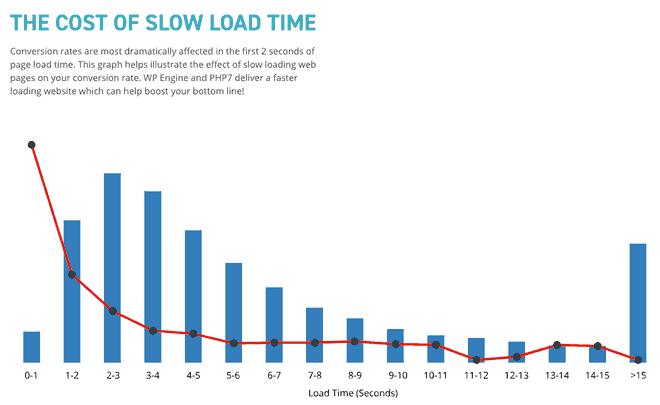 Are You Planning to Go with WordPress Hosting?
If after reading this WP engine review you feel that WP Engine is the right fit for you, don't pull out your wallet just yet. There is a bit more research you need to do.
Luckily, we've done most of it for you. Take a look at our guide on How to Choose the Best WordPress Hosting. There, you'll discover the information to help make an educated decision on what form of hosting works best for your business.
Beyond that, we can even help you set your website on the path of success. With a multi-step approach to managed SEO, we put your site on the map so you can show up in search engine results relevant to your demographic.
Needs blogs? We can handle those, too. Our high-quality staff of professional writers delivers exceptional SEO optimized content.
Reach out to us today and let's set your site up for success!