StudioPress Genesis Review: Premium WordPress Themes in 2020
WordPress is used by 32.4% of all the websites on the internet.
This is for good reason, as WordPress has one of the largest communities of any content management system. Thousands of great themes, powerful plugins, and customization that is limited only to your imagination.
Knowing where to begin using WordPress can be confusing without some assistance. That's where brands like StudioPress come in. They help provide a foundation of easy-to-use tools, templates, and creative themes.
This comprehensive StudioPress review should help you understand why so many top names in the world use their software.
What Makes StudioPress Special: Hint What is a Genesis Framework?
The name StudioPress is synonymous with the Genesis Framework. They created one of the most popular theme frameworks on WordPress. Genesis is what makes WordPress even better and utilizes all modern code and technology.
There are many reasons why the Genesis Framework beats the competition. The design is very streamlined and it can be customized with a simple installation of a child theme.
"What is a child theme?" you may ask. These are easily swappable themes that don't make any permanent changes to the underlying foundation. This is best described as a cosmetic layer.
WordPress is the core software that your website runs on, Genesis is the framework of how it functions, while StudioPress' child themes are the eye-candy. The best Genesis child themes are responsive, lightweight, and easy to brand.
Genesis child themes only work within the StudioPress framework, although the marketplace is as big and thriving as WordPress' default store. The setup is quick and easy after the Genesis Framework gets installed on your website.
For a complete how-to manual to Genesis WordPress Child Themes, StudioPress Child Themes, and for a much deeper understanding around what is a child theme and how to properly use a child theme, please check out StudioPress' incredibly helpful 83-page guide:
Click the link to download The Genesis Guide for Absolute Beginners (PDF – 1.4 MB)
How much does Genesis Framework Cost?
To learn more about WP Engine and why we believe it's essential to your digital marketing success, please don't miss our complete WP Engine Review.
To be 100% transparent, the WordPress theme we use on our Marketing by Kevin site you are reading now is a premium WordPress theme from StudioPress called the Agency Pro built on the Genesis Framework and hosted by the managed hosting provider WP Engine.
I am not implying WP Engine is the best hosting service in the industry, only because I have not personally worked with every hosting provider.  WP Engine is hands down the best hosting company I've worked with in my digital marketing career and thankfully they have not given me a reason to look for another vendor.
Having WP Engine and now StudioPress together as a single company makes my personal and business WordPress website development far simpler.  On the next graphic, there is a quick overview showing how helpful and hands on a company like WP Engine is, especially for business owners like myself who are not coding or network admin experts.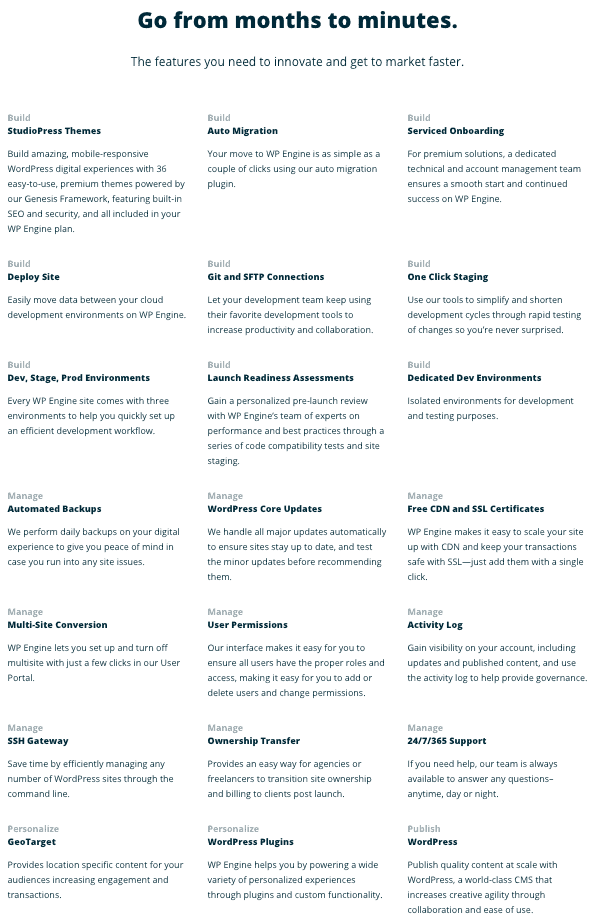 I believe WP Engine and StudioPress have become two essential core components needed in 2019 when creating a website to ensure the most secure and sound framework for the user and for your long-term SEO purposes.
StudioPress Themes
The standards for StudioPress themes are higher than your average built-in WordPress theme. The Genesis Framework allows for a much simpler implementation of important web functions and security. Speed and security are the most obvious differences between StudioPress themes and others.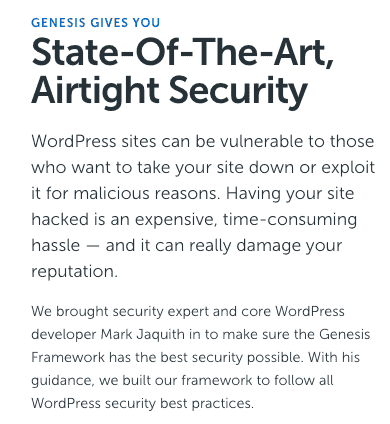 Websites that have a StudioPress theme exhibit faster load times, seamless integration of HTML5 content, cleaner code, and mobile-ready formats. All of this translates to not only a better user experience but also better SEO as seen by Google. Using Google's webmaster tools, you can observe the differences between a standard WordPress page and one that uses StudioPress.
Your webpage analytics will show more consistent growth with Google's algorithms and crawlers, as the Genesis Framework provides superior indexing qualities.

The Intangibles
What is often overlooked when it comes to website themes is ease of use for both beginner and experienced development. StudioPress sites or themes don't bog down their menus with customizations. They include more built-in features that work without needing to download more plugins and spend more time coding.
This is what produces that cleaner-than-average code. Less code means faster loading and improved SEO grades.
Multi-purpose vs Specialist
The best WordPress themes in 2019 and beyond are multi-purpose, which indeed are gaining in popularity. More people are trying to do more using the same theme. This sounds like a smart idea for brand continuity, but it delivers mixed results.
There really isn't a theme out there that can do everything at a high mark. Usually, there's some type of shortcomings in certain areas. A slick theme that does portfolios, blogs, and video content well might not have the most robust shop functionality, for example.
This is where StudioPress' themes can solve this common problem. Rather than try to weigh compromises with multipurpose themes, use StudioPress' child themes. Take advantage of the ability to specialize in multiple areas of your brand's website.
Yes, this may take a bit more help with a plugin or two, but the result is a modern theme without obvious shortcomings. This strategy will produce a website that will outperform multipurpose themes without needing to worry about sacrificing on functionality. Development for optimized Studio Press child themes is more straight-forward and intuitive, as well.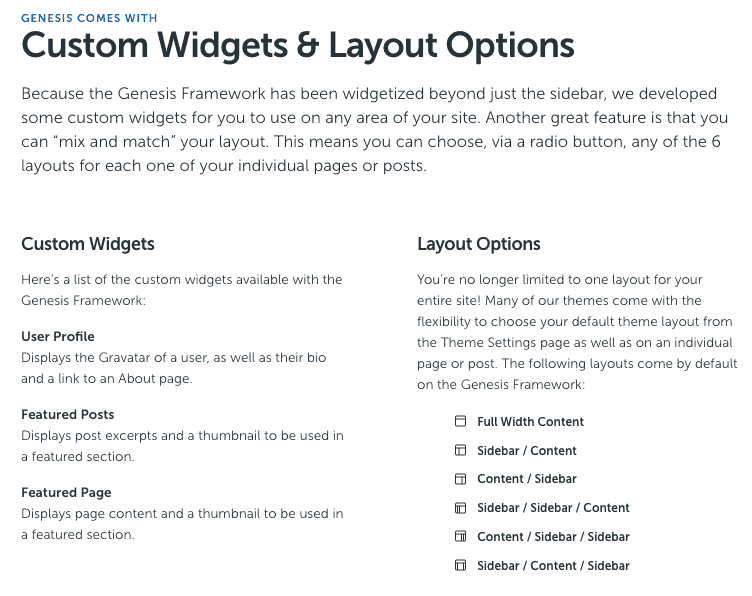 Refresh, Rebrand, and Rotate
It's worth highlighting another great built-in perk of StudioPress themes: flexibility. The child theme aspect of this framework allows for effortless swapping of your website's look. You could use this for marketing campaigns, seasonal changes, or an entire rebranding effort.
Rather than having to do any heavy formatting to make this happen, changing to another child theme is literally a few button presses. Using child themes also means you avoid taking a hit on your SEO. None of the important stuff, like security, usability, or core designs will be affected.
This makes StudioPress the ideal software to invest in for a long-term website solution.
Purchasing StudioPress
Technically, StudioPress and the Genesis Framework are two different services. If you wanted to do something completely different from the StudioPress themes, you could purchase the framework separately. It goes for $59.95 by itself.
For the vast majority of users, you'll want the StudioPress package with the Genesis Framework for $99.95. For those who really love StudioPress' themes, you can get an all-access pass for $499.95. The Pro Plus All-Theme Package allows unlimited usage of their themes.
For those who may feel that Studio Pro StudioPress is a little pricey, you're paying for a premium platform. The average WordPress premium theme out there costs you $50-100 alone. That's without the robust and modernized framework that Genesis provides.
Returning customers also receive a discount when buying additional themes from StudioPress.
StudioPress Genesis Premium WordPress Blog Themes
Ambiance Pro Theme
The StudioPress Genesis Ambiance Pro Theme works best for the follow:
WordPress Blog Themes
Personal WordPress Blogs
Mobile Responsive
Great For Photography
Beautiful Pro Theme
The StudioPress Genesis Beautiful Pro Theme works best for the follow:
WordPress Blogger Themes
Personal WordPress Bloggers
Mobile Responsive
Very Customizable
Divine Pro Theme
The StudioPress Genesis Divine Pro Theme works best for the follow:
Travel Blog WordPress Theme
WordPress Travel Blog
Best WordPress Themes for Travel
Mobile Responsive
eleven40 Pro Theme
The StudioPress Genesis eleven40 Pro Theme works best for the follow:
Simple WordPress Themes
Simple WordPress Blog Themes
Mobile Responsive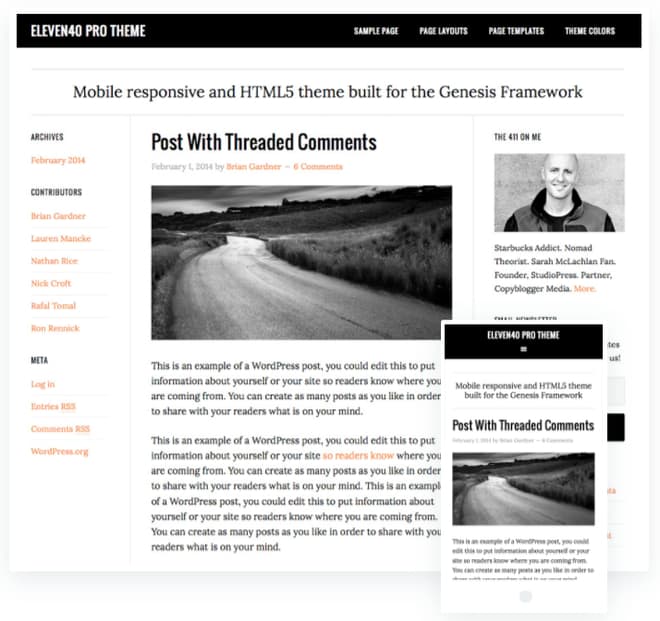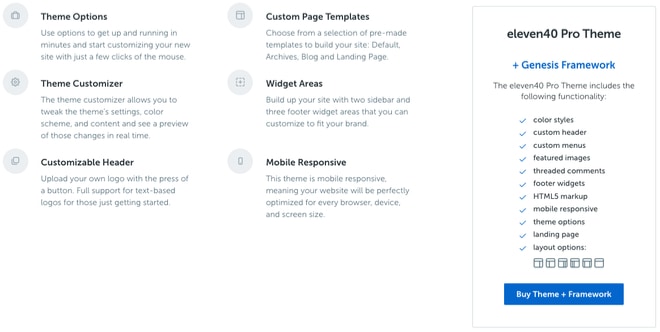 Maker Pro Theme
The StudioPress Genesis Maker Pro Theme works best for the follow:
Creative Blog WordPress Theme
Creative WordPress Themes
Mobile Responsive
Great For Designers
Modern Studio Pro Theme
The StudioPress Genesis Modern Studio Pro Theme works best for the follow:
Modern Portfolio Pro Theme
Modern Blogger Pro Theme
Mobile Responsive
Great For Photography
Pretty Chic Pro Theme
The StudioPress Genesis Pretty Chic Pro Theme works best for the follow:
Best WordPress Theme For Ads
WordPress Theme with Ad Space
Ad Sense Premium WordPress Blog Theme
Mobile Responsive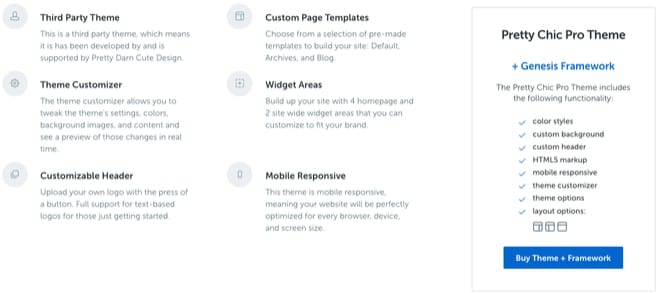 Pretty Creative Pro Theme
The StudioPress Genesis Pretty Creative Pro Theme works best for the follow:
WordPress Lifestyle Blog Themes
Best Lifestyle Blog Themes
Lifestyle Blog Themes
Mobile Responsive
Simply Pro Theme
The StudioPress Simply Pro WordPress Theme is a third party theme made by Bloom Blog Shop. Simply Pro is a modern theme following the design trends set by the best bloggers and is known to be one of the top female WordPress themes. With its minimal style that's nice and simple, your content will look marvelous. Simply Pro comes packaged with customizable colors, so you can change to fit your needs.
Sixteen Nine Pro Theme
The StudioPress Sixteen Nine Pro is a WordPress Travel Blog Theme that lets your visual and verbal personality shine through while confirming that design can be stunning and simple. Mobile responsiveness, a custom background, and HTML5 are the base on which you can build a look for your site that rises above all others. Be sure to check out the Sixteen Nine Pro Theme.
Slush Pro Theme
The StudioPress Slush Pro WordPress Theme was created to captivate attention and convert that attention into sales. Its beautiful marriage of marketplace and marketing helps create a warm space online to feature your work and share your thoughts.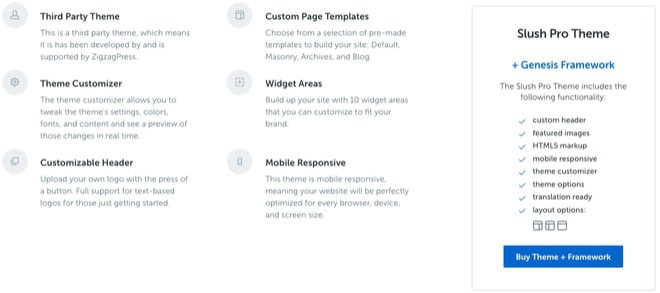 StudioPress Genesis Premium WordPress Blog/E-commerce Themes
Essence Pro Theme
The StudioPress Essence Pro WordPress Theme is one of the best WordPress themes for blogs. Essence Pro is a remarkable, clutter-free theme for websites in the lifestyle, health, and wellness niches. It is designed for uniformity, both on the back end and at the exterior, allowing your readers and you to focus on the essentials. Be sure to check out one of the best blog themes today!
Mai Lifestyle Pro Theme
The StudioPress Mai Lifestyle Pro is the perfect WordPress e-commerce theme for Fitness, Food/Recipe, Wellness, and Lifestyle sites. Mai Lifestyle Pro comes with flexible image-rich layouts, including full-width sections and archive options that will make your content shine.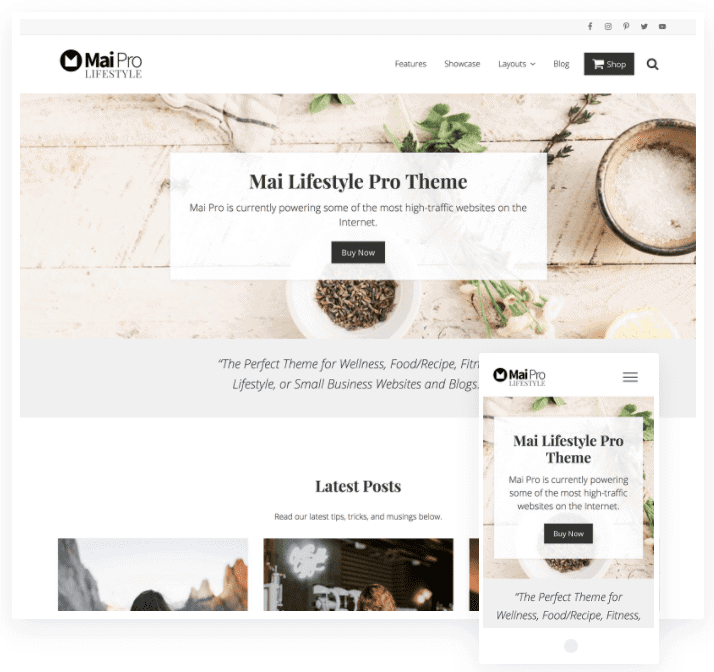 StudioPress Genesis Premium WordPress Business Themes
Agency Pro Theme
Aspire Pro Theme
Enterprise Pro Theme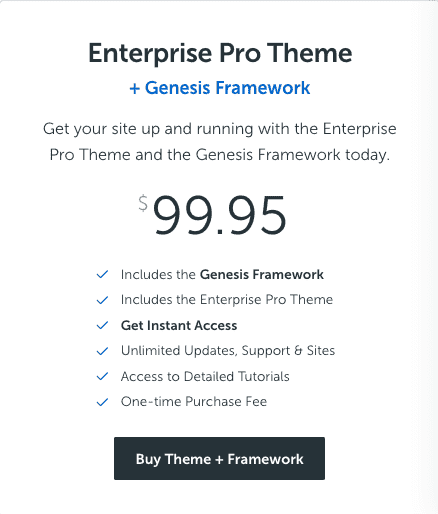 Generate Pro Theme
Hello! Pro Theme
Interior Pro Theme
Kickstart Pro Theme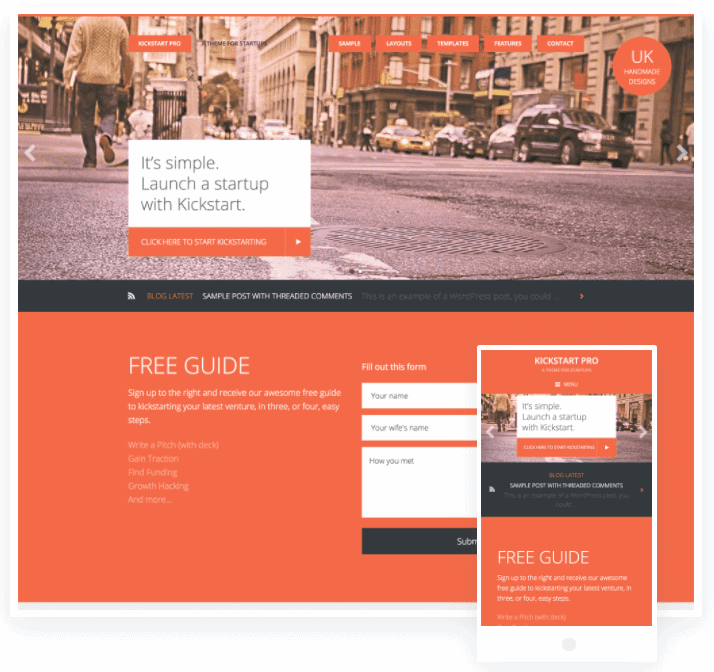 Showcase Pro Theme
StudioPress Genesis Premium WordPress Business/E-commerce Themes
Academy Pro Theme
Altitude Pro Theme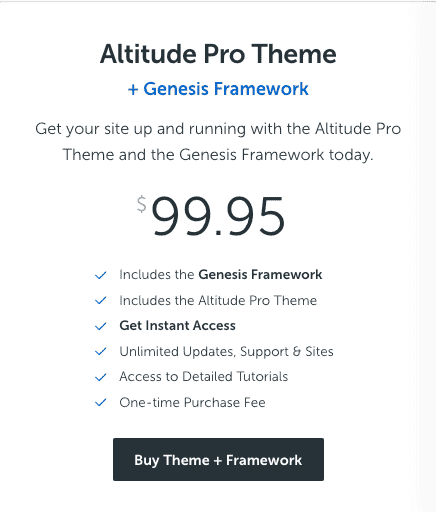 Atmosphere Pro Theme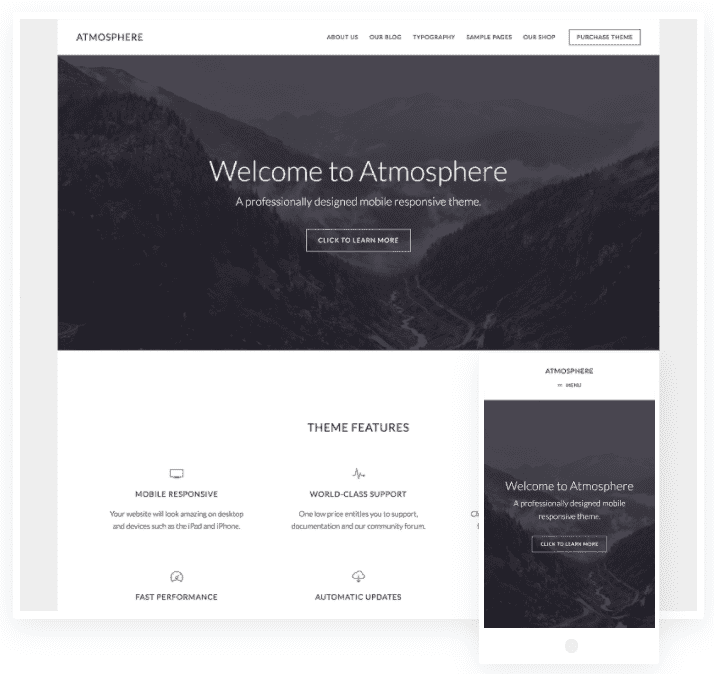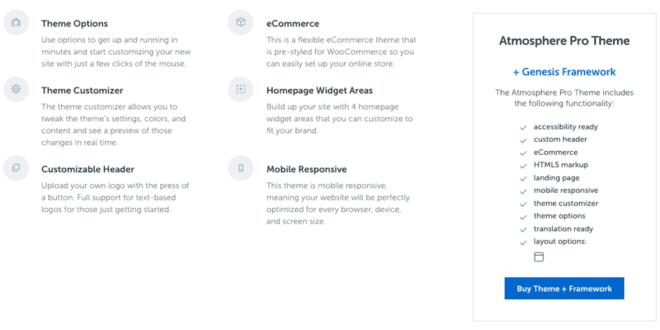 Author Pro Theme
Authority Pro Theme
Breakthrough Pro Theme
Business Pro Theme
Corporate Pro Theme
Digital Pro Theme
Executive Pro Theme
Infinity Pro Theme
Jessica Theme
Kreativ Pro Theme
Monochrome Pro Theme
Refined Pro Theme
Smart Passive Income Pro Theme
Studio Pro Theme
Wellness Pro Theme
Workstation Pro Theme
StudioPress Genesis Premium WordPress Church Themes
Outreach Pro Theme
StudioPress Genesis Premium WordPress Clothing/E-commerce Themes
Outfitter Pro Theme
StudioPress Genesis Premium WordPress Education Themes
Education Pro Theme
StudioPress Genesis Premium WordPress Fashion Blog Themes
Glam Pro Theme
Market Pro Theme
Niche Pro Theme
StudioPress Genesis Premium WordPress Food Blog Themes
Brunch Pro Theme
Cook'd Pro Theme
Foodie Pro Theme
StudioPress Genesis Premium WordPress Lawyer/E-commerce Themes
Mai Law Pro Theme
StudioPress Genesis Premium WordPress Magazine Themes
Milan Pro Theme
StudioPress Genesis Premium WordPress Magazine/E-commerce Themes
Lifestyle Pro Theme
Magazine Pro Theme
Metro Pro Theme
StudioPress Genesis Premium WordPress Minimalist Blog Themes
Minimum Pro Theme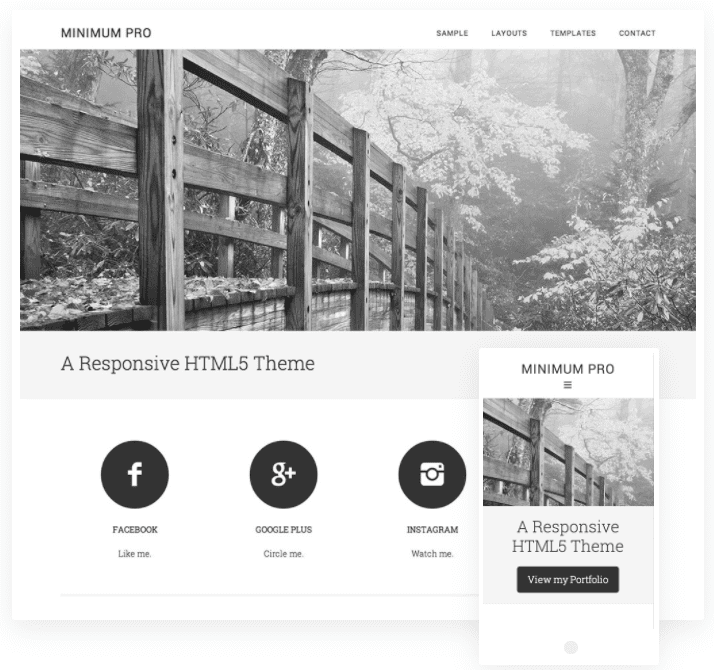 No Sidebar Pro Theme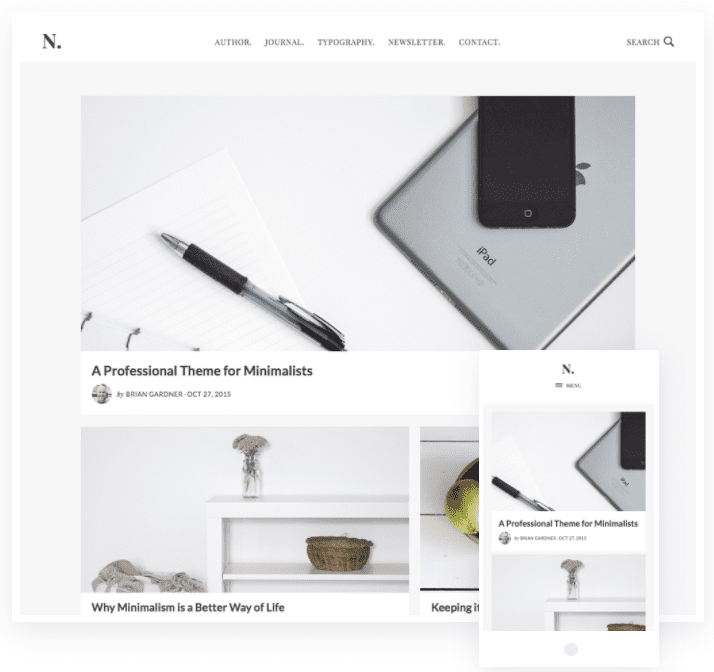 StudioPress Genesis Premium WordPress Minimalist/E-commerce Themes
Boss Pro Theme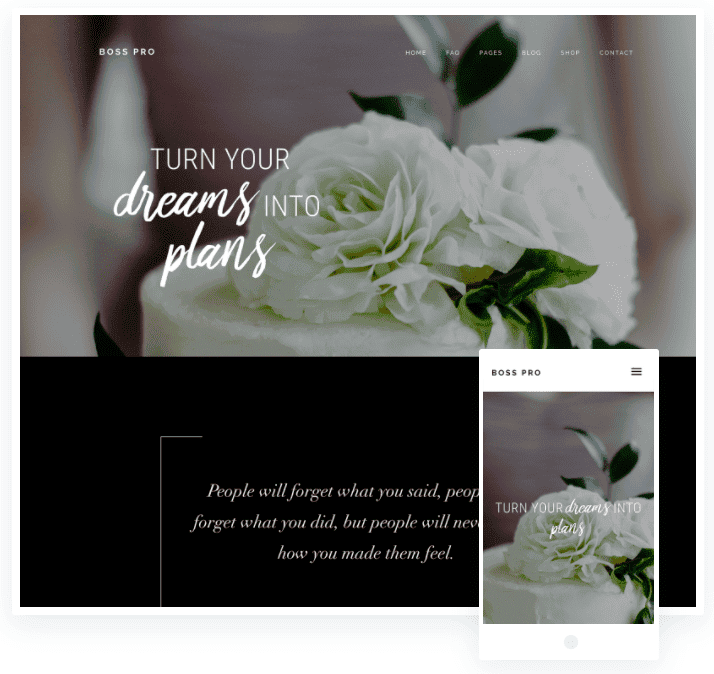 StudioPress Genesis Premium WordPress News/E-commerce Themes
News Pro Theme
StudioPress Genesis Premium WordPress Parallax/E-commerce Themes
Parallax Pro Theme
StudioPress Genesis Premium WordPress Photography Themes
Elegance Pro Theme
Gallery Pro Theme
StudioPress Genesis Premium WordPress Real Estate Themes
Agent Focus Pro Theme
AgentPress Pro Theme
StudioPress Genesis Premium WordPress Restaurant Themes
Cafe Pro Theme
StudioPress Genesis Premium WordPress Restaurant/E-commerce Themes
Daily Dish Pro Theme
Featured Plugins
Some StudioPress themes are perfect and provide plenty of customization. There are plenty of plugins that can enhance your web building experience, too. StudioPress has their own set of preferred plugins, as well as the third-party marketplace.
We tinkered with both free and premium plugins. There are plenty of reviews out there for premium plugins, so we are going to highlight four of our favorites.
Genesis Visual Hook Guide
Hooks are what makes the Genesis platform so great. It's easy to locate where content, graphic elements, or widgets are going. Organization of content likewise becomes easier. The Genesis Visual Hook Guide is great for both beginners and intermediates.
This plugin simplifies hooks by placing highlighted sections over your website. This makes hook placement even more intuitive and editing them faster. Part of the problem with creating eye-catching pages for the first time is deciding how to edit hooks.
This is a valuable tool that allows you to customize presets with little time invested.
Social media sharing plugins are commonplace on WordPress. Without them, you're leaving some of the easiest organic SEO on the table. StudioPress keeps things simple with the Genesis Simple Share with clear menus and fields.
Simple share lets you place your social bar where you need it most. Place it under/above your blog posts, the footer, your archives, or pages with additional info. These social media sharing buttons don't need extra tweaking or customizing to work with any themes.
SEO Settings
This plugin is your all-in-one on-page SEO box for editing all the important SEO fields. On-page SEO should be done before your website's launch. If you don't have time to do all of this yourself, consider purchasing SEO services.
This plugin will keep you from forgetting to edit your titles, meta descriptions, keywords, or tags. You can also use it to edit header tags, no-index category archives, and tag archives, too.
eNews Extended Plugin
This is a popular plugin created by a third-party team for integrating email marketing. StudioPress recommends this for any business with email subscription signups. The plugin works seamlessly with all child themes, but it only works with MailChimp, Aweber, Mailpoet, and FeedBlitz.
Since those are the top email marketing platforms, you'll want to go with one of them if you haven't already. All it takes to set up the eNews plugin is the HTML code from your email campaign account.
If you're on MailChimp, you go to the List tab. Choose the name of your email campaign list. Next click on the Signup Forms tabs.
Choose the embedded forms option. Make sure you're using the Unstyled form to avoid any errors. It's as simple as that; just paste the code into the plugin.
StudioPress First-Timers
To review how easy StudioPress is to use, let's walk through the first-time setup. Before we begin, make sure you already have your domain registered and hosting. Then, purchase your StudioPress account package.
After logging into the dashboard, you're greeted with the option to Setup a New Site. Next, you'll enter all your domain name info, the website name, and your admin login info. You will then go back and connect your hosting account to the domain using the StudioPress IP address.
When you login into your WordPress, you'll be greeted by the default dashboard. The major difference here will be StudioPress has already filled out your website with content placeholders. You don't have to keep it this way, but it offers a unique springboard for new builders.
This 'demo content' makes getting a website up and running effortless. You can use these guidelines to build your website and play with the many themes available. Plugins allow you to start selling memberships, online products, and more within minutes.
Also, because StudioPress themes are built with HTML5, they automatically work with all devices and browsers. You won't run into a situation where website experience, loading speeds, or navigation will vary wildly. Implementation of SEO including built-in keyword research tools and responsive codes help your website impress Google's algorithms.
Customer Service
Support is important for first-time builders, and for the most part, StudioPress delivers. They offer support mainly through email and forum posts. This is pretty standard stuff for WordPress themes.
The official Support Forums were a little hard to find. There's no big obvious link to it on the front page; it's found in one of their top menus. If you click "Get Help" you get their FAQ page.
The FAQs can answer a lot of basic questions, as they point you to a tutorial database with lots of detailed info. If nothing is helping you at that point, you can shoot an email to StudioPress for help. The average response time is less than 24 hours during normal business hours.
StudioPress Review Scoring
There's a lot that StudioPress can do for beginner and intermediate website builders. The platform is among the fastest in the industry. It requires much less tinkering and plug-in shuffling that is commonplace with WordPress.
StudioPress has one of the best offerings of SEO settings out of the box. The faster, mobile-friendly, and optimized themes improve your ranking with Google. The pricing is reasonable, too, considering everything that you get.
StudioPress' Genesis Framework is a brilliant solution to the often lukewarm offerings of multipurpose themes. Being able to swap between child themes without changing any lines of code is a godsend.
New users have access to a large database of helpful tutorials and a responsive community of support. They can also rest easy knowing that the Genesis Framework auto-updates. You'll never have to worry about security holes.
Rather than give a numerical score, we give StudioPress a rating of "highly recommended" purchase. It's among the best investments that any young startup or small business can make.
Marketing and Design Help
For those who don't have the capacity to do it all, stay tuned to our blog. Harnessing the power of StudioPress requires a sound strategy. Our StudioPress review isn't complete without an accompanied marketing strategy.
Any business that wants to have a digital presence will need a team around them for SEO, local SEO, email marketing, multimedia branding, and more. Marketing By Kevin is a full-service consulting and marketing brand.
Everything from link-building, guest posting, audits, analytics, market research, and video creation. You can't afford to cut corners on any of these aspects of marketing, no matter how good your website looks. Start building the foundation of your digital campaign with us today.
Fill out our contact form, email us, or call us to find out how we can transform your business.